The Power of Paint
Paint is the number one way to freshen up your home, add drama to a boring room, fill an empty space on a wall, and even get your home ready to sell. I wanted to share with you some of the ways I have used paint throughout my home. For very little money you can add a ton of style to a room!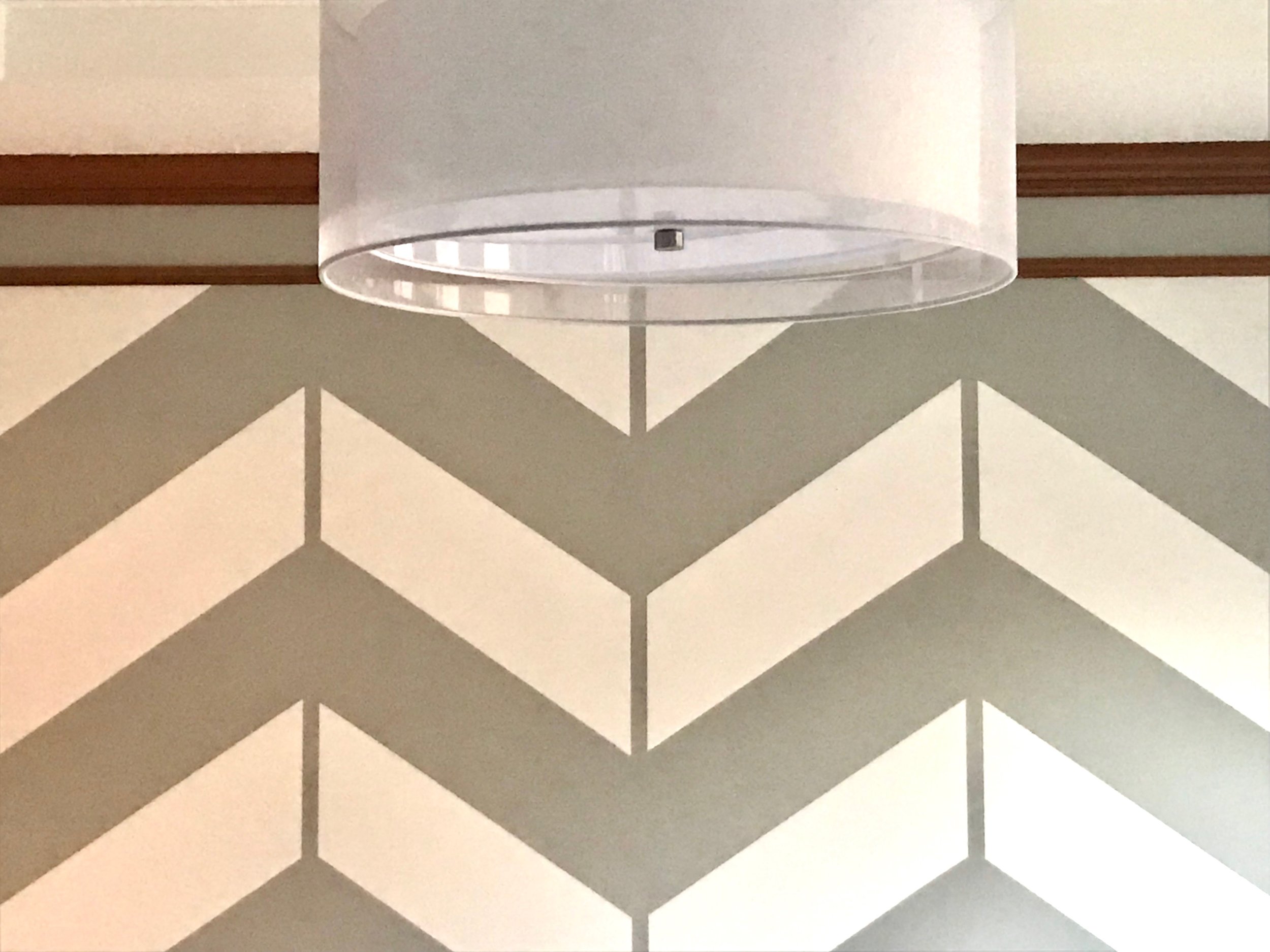 Use paint, tape and maybe a little wine to get this look. This is an amazing way to add drama and fill up a wall for very little money. I used this tutorial and a little math (ok maybe a lot of math) to get this look in the kids' playroom. I love it so much and I love that it's one of the first walls you see when you come into our home.
Add a bold color to one wall or an entire room for added warmth. I added this teal paint to our sunroom and used the same color as an accent throughout the house. We don't have l a lot of wall space in this room to add art pieces or accent pieces so it needed the color for some fun. Love it!
So many simple ways to add color throughout your home using the power of paint! Can you tell how much I love paint?! Here I used stripes, paint squares and just added some of my paint colors to inexpensive wooden letters.
In our half-bath I tied the sunroom color and our yellow accent color together with simple stripes on one wall. I just used a tape measure and a level to mark where I wanted the tape and then placed the 4 pieces of tape, painted and then peeled off the tape (my favorite part) and that's it!
In the laundry room I decided to paint the entire room yellow. If I'm doing laundry I might as well feel cheery, right? So, I took the other 2 colors and painted out my Wash & Dry and used 3M stickies and stuck them up on the wall. Simple.
Up in the workout room I used some colors from our master bedroom color scheme and painted super simple, diagonal stripes. Loved the way it turned out in there. When you love a space so much you'll want to spend more time in there, which means more workouts!
The other thing I like to do when I need a pop of color and need to fill some wall space is to add a rectangle of color to frame out a smaller piece. In the playroom, I added some of the teal paint behind a magnetic board that we display some of the kids' artwork. I just measured the board, added about a foot and taped off a rectangle.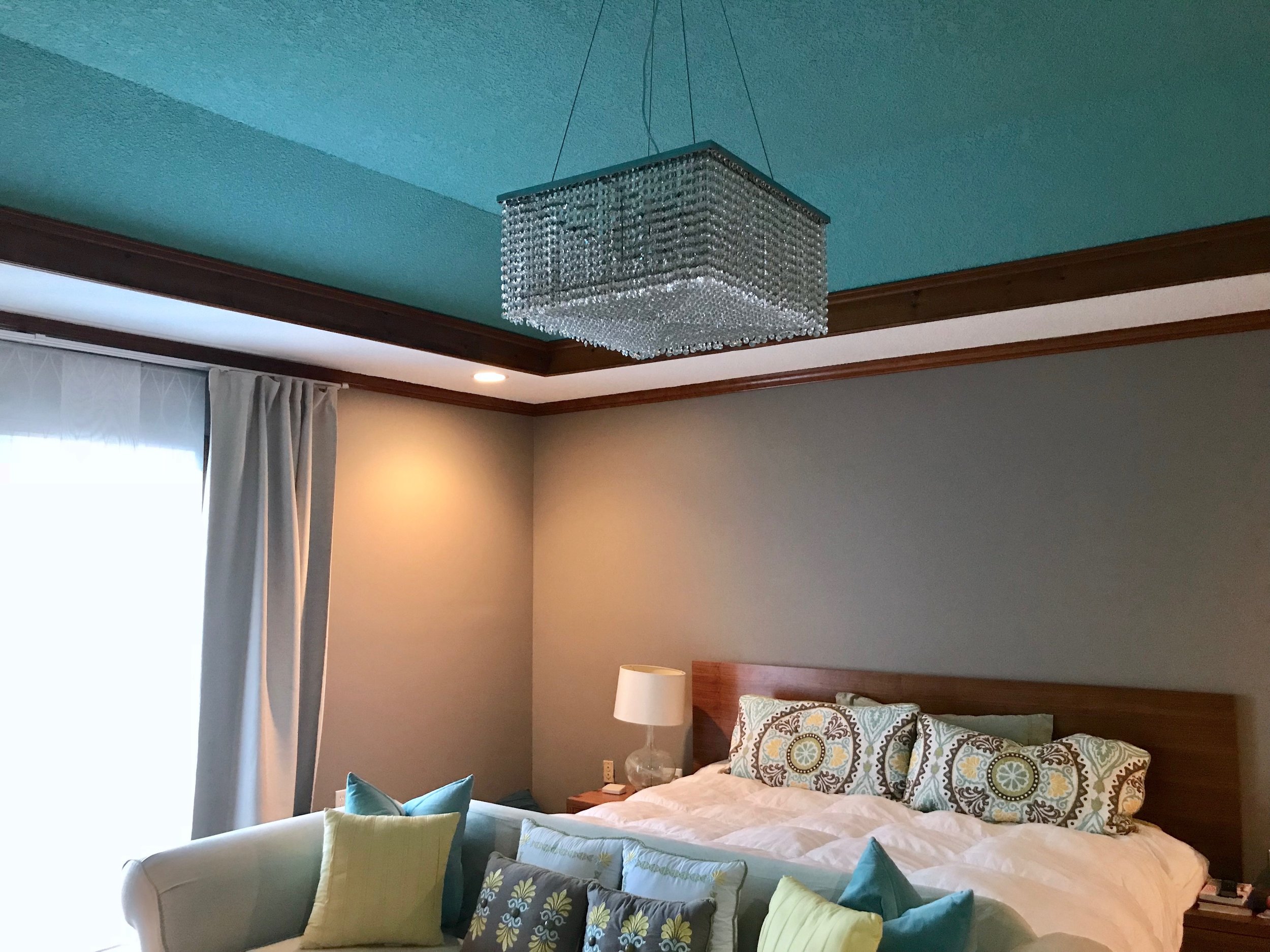 The ceilings don't always have to be white
In our master bedroom I really wanted to add some elegance. We installed a crystal chandelier and painted the ceiling a beautiful blue. We still have lots of decorating to do in there but I love the way it turned out. The wall color is a warm greige.
Paint-The Best Way to Update for the $$
If you're staying and especially if you're planning to move, paint! It is the most inexpensive way to make the biggest impact. Buyers love to see fresh paint on the walls and white trim. Our living room was covered in wood. It was on the ceiling, the trim and the paneling. I loooove wood by the way, just not 1980's oak. So, we removed the beams, took pieces of trim off the paneling to give it a more modern, clean line and painted it white. Then, we added a fresh gray to the walls and called it good.
We love our home so much! The paint colors make it such a fresh, happy place to come home to everyday! I hope you can use some of these ideas to add color and style to your home today!